SWELL Acoustical Panels™ consists of a series of individual modular panels that can be mixed and matched allowing for maximum creativity. The unique elliptical shaped panels can be configured in a variety of patterns, using a combination of standard and custom sizes. Standard widths range from 2″ to 10″, and panels run vertically or horizontally, wall to wall, or ceiling to floor. Pair SWELL Acoustical Panels™ with traditional fabric wrapped panels to further enhance your project.
The Noise Reduction Coefficient, or NRC rating is 0.9, which satisfies all acoustical requirements.
SWELL Acoustical Panels™ are designed for an efficient installation, as the fabrication is completed at our facility in Long Island City, NY and installed by qualified technicians.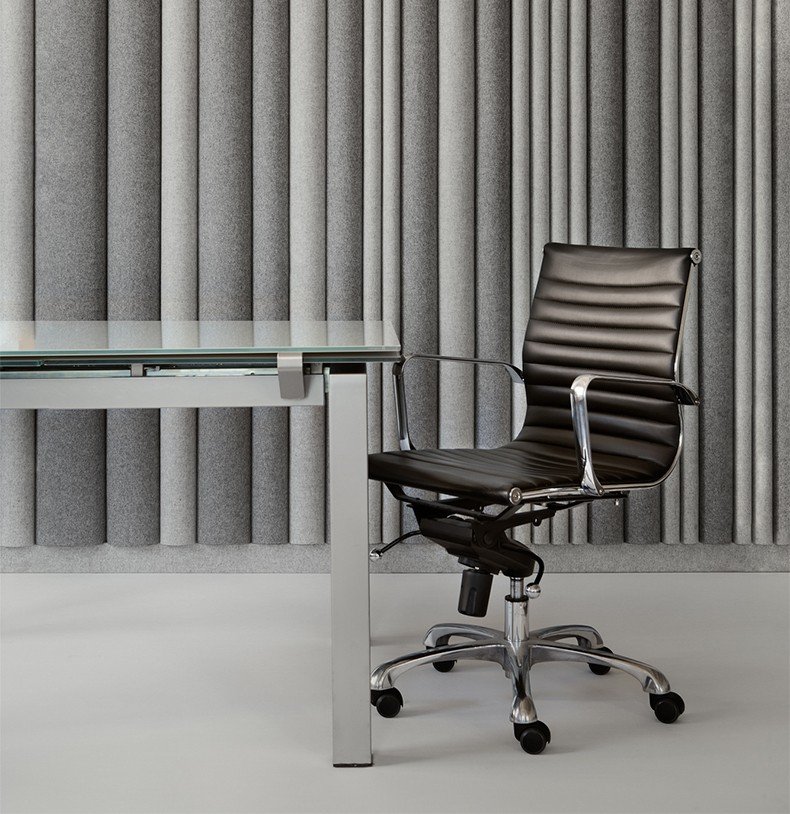 SWELL Acoustical Panels™ Overview
Product: SWELL Acoustical Panels™
Content: Substrate, Plywood, Fabric
Panel Widths: 2″, 4″, 6″, 8″, & 10″
Maximum Length: 120"
Mounting Options: Quick grab formula and concealed nails
Lead Time: 4-6 weeks
Acoustics: ASTMC 423: NRC: 0.95, SAA 0.97
Fire Rating: California Technical Bulletin 117-2013; NFPA 260 + UFAC Class 1
Colorfastness: AATCC-16 (40 Hours) 4 Minimum
Environmental: Camira Blazer is 100% Pure New Wool certified to Indoor Advantage™ Gold. Blazer is rapidly renewable and compostable, and the highest quality raw material. The acoustical substrate is free of harmful substances and formaldehyde.