Panel-Tex™ by DFB are fabric wrapped acoustical panels tailored to fit any wall. DFB manufactures and installs traditional wall & ceiling panels, Swell, Plank, and Ceiling Baffles, all of which fall under the Panel-Tex™ umbrella. Each panel is pre-upholstered at our facility in Long Island City, and installed by a qualified technician.
When using DFB's Panel-Tex™ System, we ensure a competitive lead time, at a more cost effective price.  Our Sales Representatives will walk you through the simple process below, to finalize and complete your next project in no time! Be sure to explore our additional fabric panels on the Products page.
While we are happy to provide standard floor to ceiling panels, our Panel-Tex™ System is unique in that it can be tailored to any wall and desired space. DFB has experience manufacturing and installing panels in various custom sizes to adapt and fit any field dimension.
Please submit your desired layout to a DFB sales representative and our team of experienced technicians will manufacture the panels accordingly.
DFB offers both acoustical and/or tackable substrates for our Panel-Tex™ System. Whether you require panels that absorb sound, or panels where a long lasting tackable surface is needed, we have the solution that is best for you!
ACOUSTICAL SOLUTION
QUIET-CORE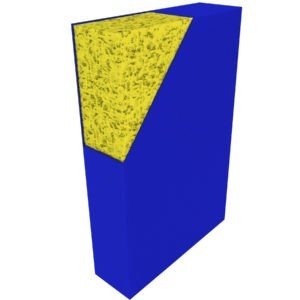 Quiet-Core is a thermal acoustical insulation made from inorganic glass mineral wool.  It is available in a 1″ thickness with a >0.80 NRC rating. Quiet-Core has excellent sound absorption characteristics, is formaldehyde free, and is manufactured with 20% post-consumer recovered materials. Quiet-Core meets ASTM E84, ASTM 5166, & ASTM D6196 standards.
TACKABLE SOLUTION
MI-CORE™
This tackable substrate from DFB offers moderate acoustical properties. Mi-Core™ is available in  3/4″ and 1/2″ thicknesses and is constructed with inorganic minerals and fibers, making it resistant to moisture and warping. Mi-Core meets ASTM E84 standards.
Panel-Tex™ panels are tightly hand wrapped by qualified technicians and arrive on site ready to be installed. Our Panel-Tex™ System is compatible with nearly all fabric manufacturers, giving clients the flexibility of choosing their own fabrics. Since DFB handles the production process from inception to installation, we are happy to help guide you, and ensure the use of the highest quality material at the best price. Explore the below suppliers, and find the fabric that is right for your next project!
Substrates: Quiet-Core (Acoustical) & Mi-Core™ (Tackable)
Panel Thickness: Quiet-Core: 1″ & 2″; Mi-Core™ : 1/2″ & 3/4″
Standard Sizes: Maximum: 48″ X 120″
Edge Options: Wrapped Bevel, Square, Radius
Mounting Options: Quick grab formula and concealed nails
Lead Time: 4 weeks. Made to order in New York City.
Environmental: Quiet-Core is formaldehyde free and manufactured with 20% post-consumer recovered materials.
Fire Rating: In accordance with ASTM-E84, Panel-Tex™ with fabric, achieves a Class A rating, passing NFPA701.
Maintenance: Vacuum weekly or monthly, depending on traffic. Prompt action on a spill or spot is important. Stains should be treated only by a reputable, professional cleaning service.
Acoustics: Quiet-Core reaches a 0.8 NRC rating when wrapped in fabric. Mi-Core™ reaches a 0.3 NRC rating.
Please contact a DFB Sales Representative for a copy of the Panel Tex Fire Test Report.